Polo Villas Parklane — prestigios villas for sale in Batumi
buy a house, cottage, villa in Batumi Georgia
About the Polo Villas Parklane Residential complex
Polo Villas Parklane is the second of four projects of low-rise residential development of Polo Villas within Batumi. Unique for Batumi residential complex of club type is located in a quiet place, away from the hustle and bustle of the city, surrounded by tangerine gardens. At the same time, you can reach the sea coast in 2 minutes, the green Park of New Boulevard in 3 minutes, and the center of Batumi in 10 minutes. And in 30 minutes from Your home, you will be able to travel through mountains, forests, cross mountain rivers, wander through ancient fortresses and thousand-year-old bridges.
The Polo Villas residential complex organically combines prestige and refined simplicity, environmental friendliness and modern technology. A paved road leads directly to the villas.
In total, the residential complex has 50 villas — townhouses of modern style. The architecture of the houses is perfectly combined with the natural landscape. The developed infrastructure and complete self-sufficiency of the complex inspire an active and rich life.
Mountain and sea air, 300 Sunny days a year. You live in Batumi, while staying in nature and have the opportunity to spend a picnic in the fresh air at any moment. You don't have to make a choice between living in the city and outside it.
Architecture of the Polo Villas Parklane complex under constructio
n
new formats of houses in Georgia
Features of the Polo Villas Parklane residential complex
living in nature with urban comfort
a quiet, comfortable location

12-15 minutes walk to the sea

shuttle to the sea and hypermarket

transfer to / from the airport

100 meters from the Central highway

in 100 m. bus stop

own tangerine trees
Infrastructure of the complex
store in the complex

pizzeria and coffee shop in the complex

on-site Parking

ATM

wine cellar

conference hall

tourist center

animal walking area
heated pool

550 m running track

playground for recreation

sauna, bar

street workout

coworking space, startup offices

guest bikes

car rental
security of the complex

closed territory

24/7 video monitoring

reception

pharmacy

own technical service

territory care, gardener
Closed territory with developed infrastructure, courtyards without cars and round-the-clock video surveillance provide an exceptionally high level of security for residents and their guests. And our own operating organization will allow us to maintain the territory and communications of the complex in perfect condition.
Take a virtual walk around the POLO VILLAS PARKLANE complex
Before you buy a house, villa, townhouse or other real estate in Batumi, you have the opportunity to get acquainted with the object in advance — make a virtual tour of the residential complex. And using virtual reality glasses, you can fully immerse yourself in the atmosphere of the quarter.
Villa of the townhouse format is the golden mean between a separate house and an apartment
Villa — townhouse is a compromise between a private house and a city apartment. Although you live next to your neighbors, you have your own entrance to the house and your own parking space from the street. This is a great way to live in a friendly company without losing your personal space.
The area of the houses in the Polo Villas Parklane complex varies from 111 to 120 m2. The dimensions and interior layouts are worked out to the last detail. The villas are open-plan, so you can ergonomically design your rooms and furniture. Flexibility and freedom of planning will allow you to get your own functional, comfortable living space — you decide what your home will be!
A typical plan of the POLO VILLAS PARKLINE townhouse
floor plan of the house, 120 m2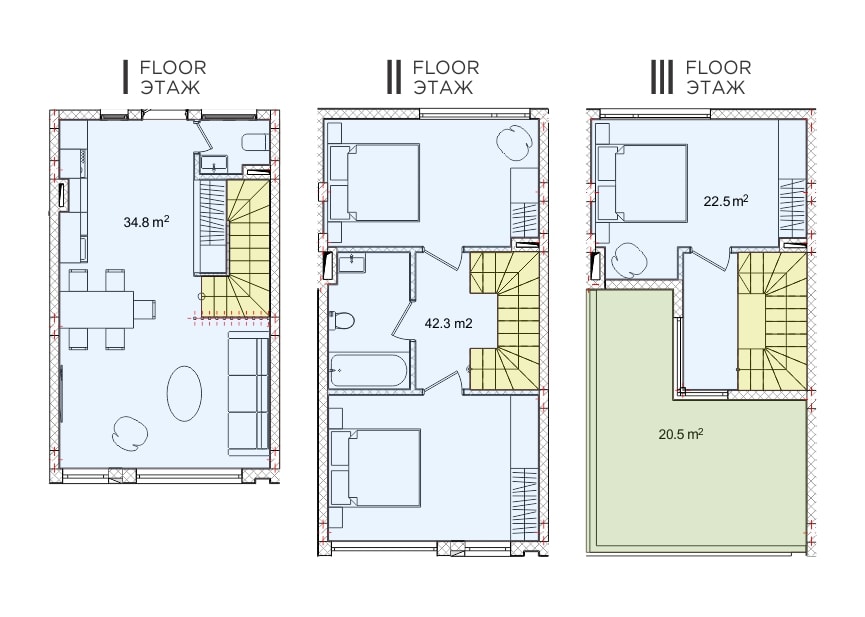 Each house has a spacious living room combined with a dining and kitchen area, 2 bathrooms, 3 cozy bedrooms (any of them is ideal for teenagers and children). Each house on the 3rd floor will have a spacious private terrace with an area of more than 17 square meters and protected from the wind on three sides. Here you can take a sunbath, cook a barbecue, or enjoy the snow caps of the mountains with a glass of wine.
Polo Villas Parklane is gasified and electrified, with Autonomous water supply and Sewerage. Fiber-optic high-speed Internet and IP-TV are provided. Each Villa has individual heating controls and individual gas and water meters.
The facade in Polo Villas Parklane is ventilated with a vapor barrier and hydro-wind protection, with the use of fiber cement slabs. Thanks to the ventilated facade, you can save up to 40% on air conditioning and heating of the room. The houses have double heat-saving window blocks and panoramic windows. Entrance doors to the house with improved heat and noise insulation. Driveways to the house are paved with paving stones.
Visualization of the possible layout and interior of houses
IN THE FOLLOWING VERSION: LIVING ROOM, KITCHEN, DINING AREA, BATHROOM — FIRST FLOOR; BATHROOM, BEDROOM #1, BEDROOM #2 — SECOND FLOOR; BEDROOM #3 AND TERRACE — THIRD FLOOR
There are only 
50
0 houses left for sale 
You can purchase a property in installments for 6 months. Initial payment -30%
You can also order the finishing of your home or order turnkey repairs, including furniture, furnishings, and equipment.
Available for sale homes POLO VILLAS PARKLANE

SUBSCRIBE TO US IN SOCIAL NETWORKS
SALES OFFICE CONTACTS
the sales office is located at the construction site of the complex
Polo Construction ltd.
Kakabadze, 26g. str. Batumi, Georgia
(phone viber whatsapp)
DOCUMENTS FOR THE CONSTRUCTION
COMMERCIAL REAL ESTATE
REAL ESTATE INVESTMENT IN BATUMI
RENTAL AND SERVICES FOR RENTING OUT HOUSES
Townhouses Polo Villas for sale in Batumi. Buy a house in Batumi Georgia. Villas For Sale In Batumi Georgia, Georgia Batumi Real Estate, luxury property for sale in Batumi Georgia, Homes for Sale In Batumi Georgia. Properties for sale in Batumi Georgia. Real estate for sale in Batumi Georgia. Mountain and sea view. House with swimming pool for sale in Batumi. Homes for sale in Batumi Georgia. Houses for sale in Batumi Georgia. Cottage for sale in Georgia by the sea. Buy villa in Batumi in Polo Villas Parklane complex. Buy a house in Georgia by the sea.  New buildings for sale near Batumi.  House with land for sale Batumi Georgia.